1972 Ferrari 365 GTC/4
At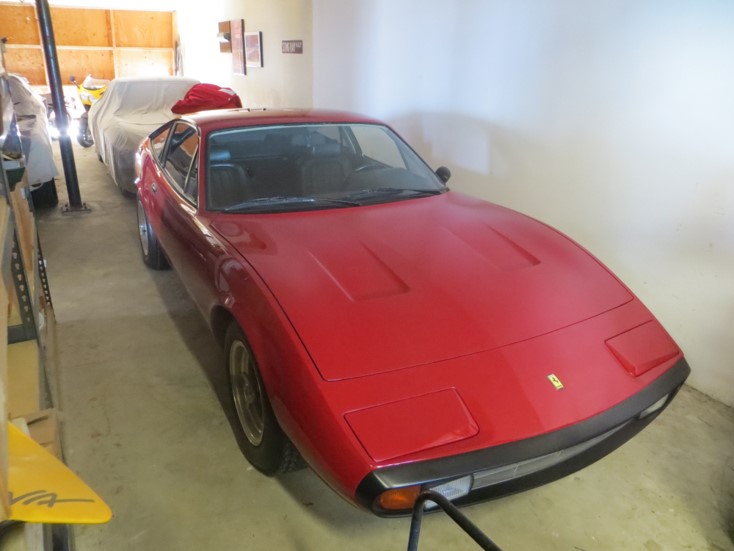 Description:
Exterior red; interior tan

USA version

56,638 miles

7.5" Borrani wire wheels in front; 8" in the rear

1 x set original Cromadora wheels

1 x set custom made Cobra S/C wheels 8 x 15 front; 8.5 x 15 rear proper spline drive and Halibrand steel knock offs

Includes: original books, hammer, jack and tools

Restoration re-paint by Bill Decarr 1977 – 1979
Provenance:
Complete history of ownership including:

1st owner Richard Jiminez

Bill Decarr

Dr. Ron Bussitil

Chuck Kendal (ref. Tommy Kendal)

6th and current owner since 02-24-2002
After being cared for in our collection since 2002 this Ferrari 365 GTC/4 is For Sale. Please inquire.
Description of the Ferrari 365 GTC/4 model:
340 hp, 4,390 cc DOHC V-12 engine with six Weber carburetors, five-speed manual transmission, front and rear independent suspension with double wishbones, coil springs, anti-roll bar, and telescopic dampers, and four-wheel disc brakes with power assist. Wheelbase: 98.4 in.
First shown at the 1971 Geneva Motor Show, the 365 GTC/4 was a grand touring car in the classic Ferrari tradition. Pininfarina created a two-seater coupe with two occasional seats in the rear. Enveloped in a sinuous and streamlined shape, it was clearly developed in the stylist's new wind tunnel, which came into operation at the time the car was being developed. Rear seats fold down in the interest of additional storage. Most notable about the exterior styling was the radiator grille, which was encircled by a broad ring that doubled as a bumper placed at the extremity of the car's long and tapered nose. Within the nose were the hidden headlights, and on the hood, two rectangular air intakes were added to aid in the cooling of the hand-built, 340-horsepower, 4.4-liter V-12 engine.

Despite being the same engine capacity as its Daytona predecessor, the engine was an entirely different unit, designed to accommodate the dramatically lower hood line. A new cylinder head was employed, which put the intake manifolds between the inlet and exhaust camshafts on each bank, and the six Weber carburetors were now side-drafts. Wet-sump lubrication was used, as opposed to the dry-sump method used on the Daytona. Power steering and brakes, along with a hydro-pneumatic self-leveling device on the rear suspension, were also included.
Road & Track described the 356 GTC/4 as "a fine car for a cross country trip in any weather. Every new Ferrari model brings some noteworthy advance over previous ones. The GTC/4's is mechanical refinement. Less mechanical thrash comes through from the engine room than in any previous Ferrari, and the controls are smoother and lighter than ever, making the car deliciously easy to drive well."