1964 Shelby Cobra 289
At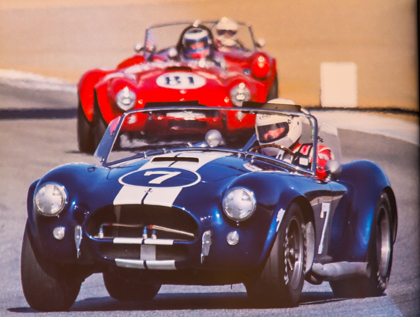 Photo Album - Shelby 289 Cobra
Same owner for the last 37 years

Wilton wool carpet

Connally leather

Acrylic lacquer paint

Originally wire wheel, Princess Blue / black interior

Billed to Shelby American 8/04/64

Shipped to LA aboard SS Garth Lock

Originally invoiced to Archway Motors 11/16/64 Baltimore, MD

Delivered to Marina del Rey via Shelby truck

1st purchased by James M. Maginnis date not known precisely
2nd purchaser Jay Anderson, Washington D.C
2nd purchaser advertised it for sale circa 1968 description as having been dissembled due to front end collision and need of restoration

Purchased by Charles R. Rayburn, Mahomet, Il Not clear what work was done.

Purchased by Sam Rarace circa 1974

Offered for sale 04/75 with "new parts included"

Purchased by Dick Roush, Puyallup, WA 05/75 with the intention of restoration to cut back door configuration. Mr. Roush subsequently found another 289 Cobra and advertised this car for sale Spring 1980

May 1980 purchased by current owner intending to convert to cut back doors race version

Restoration: . complete "skin off" using original AC 427 style rear flare panels supplied by Mike McCluskey; scaled down 427 style side exhaust, aluminum skinned foot boxes, and re-wiring to clean up the fire wall. Installed 289 style roll bar, FIA hood & oil cooler scoops fabricated

A few years later mild rear end fender bender in LA traffic leading to an even more comprehensive restoration and revision.

2nd restoration: located original "cut back doors" aluminum rear clip from east coast, w/ body off the chassis frame was inner sleeved for strength and rigidity, rear inner panels moved in board about 2" each for wider wheel clearance both operation seldom done as they are labor intensive by craftsmen. Further restoration: new fuel cell w/ Le Mans filler cap at proper USRRC/FIA body location, doors re-skinned, A.C. (Auto Carrier) Vintage racing front suspension modifications i.e. re-forging the transverse leaf spring assembly to 3° negative camber, larger sway bar, modifying the steering arms to work better and clear wider alloy wheels

installed "fun run" 440 hp engine in front of close ratio top loader currently.
Some vintage racing over 37 years of ownership Including L.A. downtown street race, 2012 50th Shelby anniversary Laguna Seca event
Spares:
1 ˝ sets original 6 ˝ - 8 ˝ Halibrand magnesium FIA wheels

1 set McCluskey 7 ˝ & 9 ˝ alloy S/C wheels

1 set PS engineering 8" and 10" FIA Kidney Bean wheels (the only set PS Engineering made)